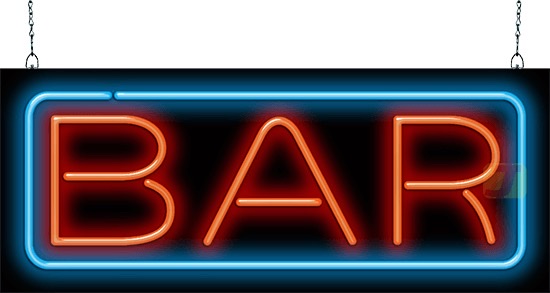 This week's short story is the 62nd I've posted to this blog. And there are another ten waiting in draft form so far. I hope you are experiencing them as enjoyable, entertaining, even thoughtful. I am certainly enjoying writing them.
What I'm Writing This Week
A man walks into a bar to forget his breakup. And leaves…well, you'll see.
Sweet Beginnings
Bob Gillen
Josh ignored the tables, steered for the bar at the back of the room. A yellow neon sign read, Sweet Beginnings. He caught the bartender's eye. "Johnnie Walker Black. Neat." He held out two fingers horizontally. The bartender nodded.
A band blasted a cover of Rockin' Robin on a tiny stage backed by a red brick wall. None of Josh's buddies ever came here. Tonight he was on the down low. His one-month anniversary. She moved out. Gone. 
He sipped his scotch, staring down into the glass, only half-hearing the music. A woman stepped up, slid her glass towards the bartender. She glanced over at Josh. "You look like shit."
Josh sighed without looking up. He rubbed the stubble on his face. "At this particular moment, I can't say you're wrong."
The woman laughed. "Tough night, huh?"
"Tough life."
Josh turned to see long fingers, capped with short nails, wrapped around a glass of straight vodka. His gaze went up to her face. Light makeup, a few lines around the eyes and mouth. Long hair tied back, streaked with blond.
"You specialize in calling guys out on their shit lives?" he said.
Again she laughed. Throaty, soft.
"I call them as I see them."
"Wow. A line right out of a noir film."
The woman pulled up the stool next to Josh.
"I'm guessing a breakup." She looked to Josh for an answer.
He looked back into his glass. "She moved out after a year. 'You don't surprise me anymore,' she told me."
"What the hell did she mean by that?"
The room roared as the band launched into Johnny Burnette's Train Kept A Rollin'.
Josh shrugged, raised his voice. "I'm boring. I bring nothing new to the relationship."
The woman turned to sip her drink. "How do you like the music?" She thumbed in the direction of the stage.
"Not bad for a cover band."
Under the music there was a layer of chatter in the room, a few attempting to sing along. Most of them off key.
"They might be better without this audience," he added.
The woman said, "I'm Lily."
"Josh."
"I haven't seen you here before."
"Never been. You come here often, I take it."
Lily nodded. "When I'm not working."
"Night shifts?"
"ER nurse. Uptown."
He sipped his drink. "A lot you want to forget, I bet."
"I've seen some bad stuff, yeah…but a lot of them make it. We have a good team."
The band finished a cover of Little Liza. The guitar player said, "Be back in a few for our last set."
Another sip. "Good crowd for a Sunday night."
"This band pulls them in…excuse me." Lily stepped away to talk with the band leader.
Ten minutes later, the lead vocal stepped up to the mic. "Last set of the night, folks. And a surprise for you." He gestured towards the bar.
Lily set her drink down next to Josh, said "Wait for me." She dodged through the servers and tables and up to the stage.
"Lily is sitting in with us tonight."
Hoots and cheers from the audience.
Josh turned to stare at the stage. Lily hugged the piano player, sat and began playing an intense boogie woogie tune. The bass and drums slipped in under her, trying to keep up. Her fingers flew over the keys. The piano player leaned in on Lily's right, played high notes with his right hand. The house cheered, clapped. Two people stood, moving to the music in between the tables.
Mouth hanging open, Josh leaned forward, slid off the stool, swayed to the music. A hollow ache rose, blossomed in his gut as he saw her losing herself in the music. Why did I quit piano lessons when I was a kid?
Half an hour later, the set over, Lily returned to her bar seat. Sweat glistened on her brow. The bartender slipped her a fresh drink.
"Holy shit, that was awesome!" Josh said.
"Thanks." She took a long pull from her drink.
"Music isn't music without a strong bottom."
"So much power in your left hand. That's great bass."
"Music isn't music without a strong bottom."
The house lights flicked once. Closing time. The bartender hustled to fill the last drinks of the night.
Josh gestured to the room. "This is when the fun starts. All the singles trying to pair off before hitting the street."
Lily nodded.
"When the house lights come up, there'll be a few surprises, I'm thinking. Some older chicks out there."
Lily turned to look at him. "Hey, that's harsh… We all look the same when we're standing on our heads."
"Ouch." He drained his glass. "Time for me to roll. Con calls starting at nine tomorrow."
"Yeah, beat it now. I may not look so good when the lights come up."
Josh met her gaze. "I may come back."
"You do that. Surprise me, though. Don't look like shit the next time."
Josh nodded. "Deal."
***